The food and beverage business has expanded substantially, particularly in the recent decade. To keep up with continuously changing consumer tastes, this business has seen significant movement with innovation in processes, products, and services. However, despite its remarkable development rate, this multibillion-dollar company area faces a number of challenges. While some concerns in the F&B industry have persisted, several new issues have emerged recently.
A paradigm shift in consumer eating patterns has been seen, with customers preferring sugar-free and fat-free items to preserve excellent health. This has motivated food producers to implement numerous improvements in the current manufacturing process in order to address some of the sector's biggest difficulties effectively.
Every day, the massive and intricate Global Food Industry provides nourishment for billions of people. It does, however, confront a number of difficulties that affect not only its effectiveness but also the standard of food security. We will examine the Challenges in the Food industry today in this blog, as well as how Farm to Plate, a cutting-edge technology, seeks to transform the way food is produced and distributed. We'll also talk about how this creative idea might affect the MENA area as it expands.
Top Challenges in Food Industry
Global Sourcing challenges
Stay-at-home orders and border restrictions no longer impede people and commodities flow. Supply chain disruptions continue to have a severe impact on the food and beverage industry. They are regarded as one of the food industry's difficulties. Many firms are feeling the need for greater resilience in the face of potential issues, whether it is due to labor constraints in the food distribution industry or complications from having to switch suppliers owing to scarcity.
The IDC report provides additional evidence that food supply chain issues are on the minds of food and beverage business decision-makers.
The disruption of the Supply chain can lead to a domino effect creating a significant impact on a company's operations, leading to delays, increased costs, and potential customer dissatisfaction. Major factors that lead to disruption, include
Perishable Nature of Food
Inventory Mismanagement
Transportation Challenges
Lack of Supply Chain Visibility
Regulatory Compliance
Climate change
Economic crises, and many more
Sustainability and Eco-Friendly Practices
The correct food and beverage ERP solution can assist with food production scheduling capabilities that allow you to coordinate supply and demand ahead of time, as well as the flexibility to lay out several production scenarios, including your primary plan and backups, should unforeseen circumstances arise. Inflation is regarded as the most significant external pressure on food and beverage makers, and increasing operational expenses are expected to have the greatest impact over the next 5 years. Practices like,
Circular Economy Practices, wherein companies aim to create minimal waste and actively recycle and reuse resources within their supply chains.
Innovation in Agriculture, such as precision farming.
Building Food System Resilience in the face of climate change.
Optimizing transportation routes can prove to be great ways in helping to mitigate some of the supply chain challenges.
Big Data
The fact that mentions of "big data" in major food manufacturing businesses' filings have increased 64% since 2016 demonstrates that, over time, organizations are increasingly turning to statistics and metrics for insight. The importance of information has long been recognized—the adage "knowledge is power" is proof of this—but food and beverage companies view this as a growth potential.
Big data fared well in IDC's evaluation of technologies with the biggest impact on food and beverage organizations, reaching the top five with other key breakthroughs, such as cloud-based networks and applications. Surprisingly, it ranked higher among IT respondents than among line-of-business respondents, indicating that the concept is inextricably linked to technology.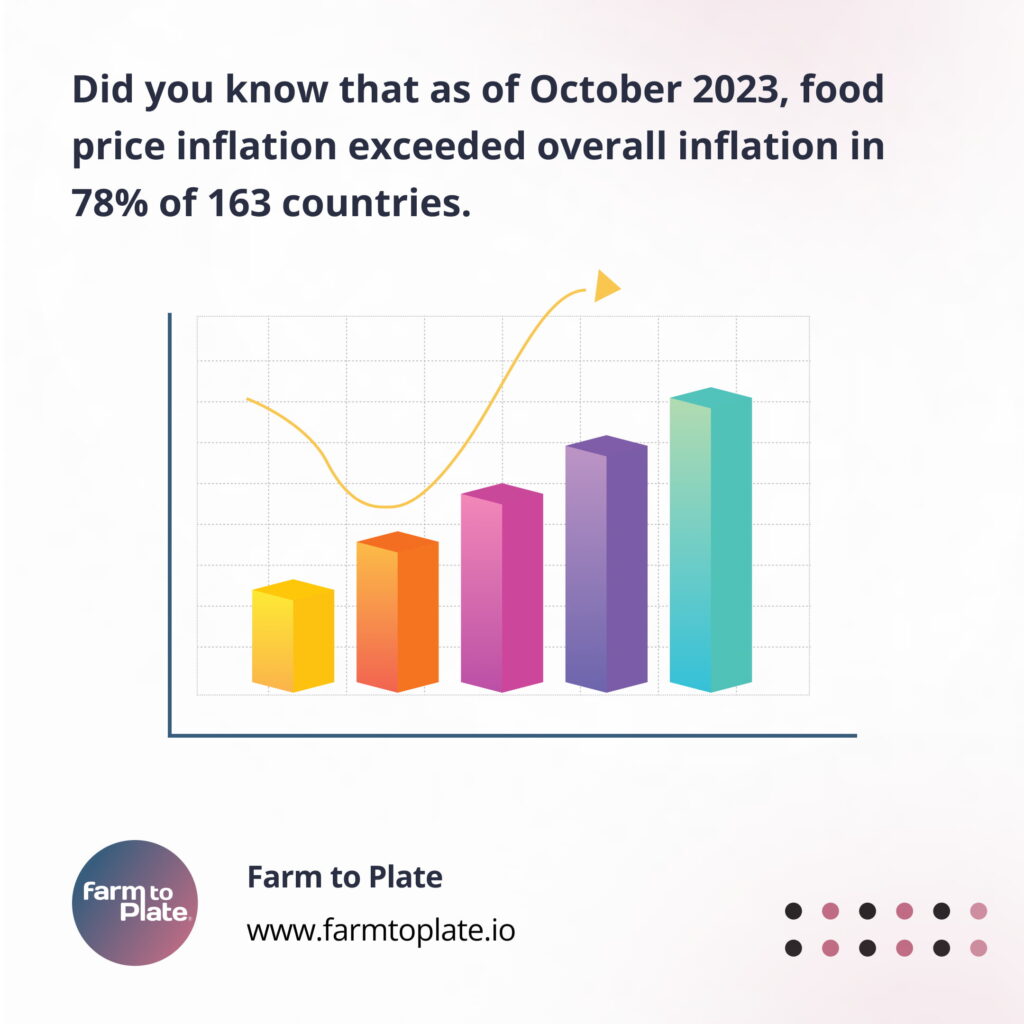 Big Data as a challenge
While data can offer valuable insights and help streamline operations, it also poses several challenges.
Data Volume and Variety – Data originates from various sources in the food industry, be it from supply chains, manufacturing, distribution, and consumer interactions. They naturally vary in formats as well make it a challenge to aggregate and analyze.
Scalability – With an expansion in the industry the volume of data grows. A challenge arises while the producers and company owners try to accommodate this growth through scaling data infrastructure.
Data Silos – Data is often stored in silos and in different departments. A problem arises in terms of sharing this data with cross platform teams in case of large data collaboration.
Overcoming Data Overload – In case of large amounts of data stored it becomes a necessity and challenge to focus on important data to have accurate insights.
Data Storage Costs – Storage and management of large volumes of data can prove to be quite expensive. It becomes a challenge to maintain the balance between cost effective solutions, ensuring accessibility while maintaining data security.
Sustainability
The attempt to make the food and beverage business more sustainable is not a new one. Nonetheless, it is gaining traction as consumers' aspirations for firms to become greener and more accountable grow. Business executives are obviously paying attention, with 55% indicating that their organizations have recently boosted their investment in environmental sustainability.
Reducing Food Waste
By a large margin, sustainability is identified as the top emphasis for risk mitigation in the IDC whitepaper. Customer demands were the greatest driving driver for the adoption of more sustainable practices, and the most generally employed technique for becoming more sustainable agriculture was minimizing waste and spoilage throughout the food supply chain.
ERPs with proper expiration management tools can help you save waste and address Agriculture Challenges by tracking dates and deploying notifications before ingredients or finished items deteriorate. Overall, equipment effectiveness solutions can aid in the reduction of scrap during the manufacturing process. OEE for Farm to Plate Process Manufacturing can assist you in identifying these losses in real-time so that the underlying reason can be rectified.
Customer demands are the primary incentive for the adoption of sustainable practices in the food and beverage business, and sustainability is one of the top problems in the food sector for risk reduction.
The Push for Eco-Friendly Packaging
This drive for Eco-Friendly Packaging enforcement is due to the rising environmental concerns related to traditional packaging, such as plastic bags. Did you know that some 12.7 million metric tons of humanity's discarded plastic waste ends up in the ocean every year. Then a toxic cycle of marine life ingesting it, becoming sea food for humans, leading to various diseases, takes place
A number of factors amalgamate to form this big shift towards sustainable packaging practices, including –
Consumer demand
Regulatory pressure
Long-Term Viability
Waste Reduction
This push has led to encouragement of compostable packaging, recycling education, rise of edible packaging, and reduction in packaging waste.
Shifting Consumer Preferences
The growth of new products, kinds, food industry trends, and even packaging types demonstrates that consumer preferences are moving, and producers are adapting. Food and beverage items with health benefits, including those suitable for specific diets (like keto and gluten-free) as well as those with more general immunity- and mood-boosting effects, are one of the most popular and poised for continued expansion.
According to the IDC survey results, changes in consumer needs and preferences were voted to have the second-greatest influence on the food and beverage business over the next five years after only increasing operational expenses. Respondents working for manufacturers and processors rated it higher than those working for distributors, which is logical given that most distribution organizations don't always get to choose what they transport and distribute.
Dietary Diversity and Special Diets
To join in on the action and grasp possibilities in emerging product categories, new product development processes must be optimized. There is no better way to do so than with a product lifecycle management (PLM) solution. With built-in USDA and CIQUAL databases, automatic production of ingredient lists and nutritional values, advanced formulation functionality, and more, Farm to Plate PLM Lascom Edition has the resources you need.
To capitalize on expanding product categories, it is critical to optimize its new product development processes, and a product lifecycle management (PLM) solution is the ideal way to do so. Farm to Plate PLM Lascom Edition provides all the tools you need, including integrated USDA and CIQUAL databases, automated ingredient list and nutritional value generation, complex formulation features, and more.
Initiation by the customer
Customers who are food-savvy are demanding more open procedures and healthier options in their purchases. They want businesses to demonstrate that they are committed to reducing their environmental impact. Furthermore, consumers want shopping, purchasing, and delivery to be more convenient and customizable.
There are various implications for the food industry, including:
Providing more product sales channels, such as direct-to-customer sales.
Improving packing, shipping, and order fulfillment.
Increasing communication channels with clients.
SKUs and customization options are being expanded.
These consumer contacts have the potential to have a huge influence. Even if you assume that, as a flavor house, you are far apart from consumer preferences, customer empowerment will pervade your firm.
Adapting to evolving laws and guidelines
Navigating Food Regulations
Strict rules oversee the food and beverage industries. Regulatory agencies like the FDA, FTC, EPA, and OSHA have been vigilant in upholding standards and guaranteeing adherence. However, in order to stay up with the rapid changes taking place in the world, the standards are always evolving.
Thus, the industry will have significant challenges in keeping up with the constantly changing reforms. Companies frequently have to recall their products from retailers as a result of the adjustments, which results in significant financial losses. Following an order from the Food Safety and Inspection Service of the US Department of Agriculture, Tyson Foods was forced to recall over 190,000 pounds of one of its products.
Growing Awareness Of Health Issues
Nowadays, consumers are more aware of food-related illnesses and their health than ever before. The food and beverage sector now has to consider how to improve the healthfulness of their products without sacrificing the visual appeal of their brands.
The UAE Nutrition Strategy 2030
Keeping in mind the basic dietary habits of the masses and the rising health problems related to them, UAE has established a Nutrition Strategy that aims to cut high rates of cardiovascular diseases and obesity among adults and malnutrition among children.
The goals inlined in the strategy include,
Reduction of stunting in children under 5 years old
Reduction of Lower birth weight by 30 percent
50 percent reduction in anemia in women
Reduction in average salt intake by 30 percent
Virtual elimination of industrial trans fat from the food supply.
Top Trends in the Food Industry
Blockchain traceability – Tracking food from source to consumers, is the basic definition of blockchain traceability. In case of any issues, it is easy to identify where the problem lies in the chain, and can help rectify the challenge and reduce impact on public health and industry.
IoT Connectivity & Automation – These technologies help in monitoring and control of processes. They are utilized in food production, supply chain management, and even smart kitchen appliances, improving efficiency, reducing waste, and enhancing quality control.
Demand for Plant-Based Foods – A conscious effort towards reduction of adverse environmental impact and health issues. Consumers are looking for substitutes to animal based products. This creates opportunities for innovation in plant-based ingredients and the development of more sustainable food products.
Smart Agriculture and Precision Farming – This includes precise monitoring of soil conditions, crop health, and resource use. These practices lead to increased crop yields, reduced resource consumption, and more sustainable agriculture.
Hyperlocal Sourcing – This trend supports local farmers and producers, reduces transportation emissions, and fosters a stronger connection between consumers and their food sources.
Regenerative Agriculture – This practice aims at restoring and improving soil health, enhancing biodiversity, and capturing carbon in the soil. This approach promotes long-term agricultural sustainability and resilience while mitigating climate change effects.
Farm To Plate- The Correct Solution Provider
Farm to Plate is dedicated to providing top solutions to challenges in the food industry to its clients with a full range of customized solutions in the MENA region. Their team members' decades of combined industry expertise and our in-depth knowledge of the best practices that companies like yours must follow to succeed demonstrate our commitment to the food and beverage market. Farm to Plate's food ERP shines thanks to its Advanced Pricing module, which provides flexibility and the option to use a hierarchical structure.
They also provide Software as a Service (SaaS) cloud deployments that are flexible and offer substantial advantages such as increased scalability, food security, and mobile accessibility.
You need to get the most out of your data for robust reporting and analytics.
Farm to Plate Food & Beverage ERP offers a streamlined integration for food industry issues with Farm to Plate Business Intelligence, which tracks some 500 key performance indicators—more than 300 of which are food- and beverage-specific.
Additionally, our system benefits from industry-specific technologies integrated into the Microsoft Dynamics 365 Business Central platform, which makes it easier to use and reduces the need for in-depth training.
Lastly, you should be aware that we work hard to be a partner for every one of our clients, helping to develop a project plan that will support you through launch and beyond and directing the implementation process.
So, be ready to get a head start on 2023 by getting the software you need to keep pace with these challenges in the food industry.
Tanya A Mishra, Technical Content Writer & Marketer at farmtoplate.io (specialising in MENA Tech Landscape). She has been working towards crafting insightful content on topics like Blockchain, Agritech, AI and many more.